WHISTLER'S VARIED ACCOMMODATION
Visitors agree that Whistler's first class hotels and lodges are a step above the rest. Whistler houses more than 4,700 rooms, from luxurious hotel suites to family-oriented condominiums to comfortable pensions and intimate bed and breakfast inns. Most of the condominium suites and the larger hotels are located in Whistler Village or at the base of the Mountains. Swimming pools, fitness facilities, saunas, jacuzzis, restaurants and lounges are just a few of the amenities provided.
Nearly every room in Whistler provides breathtaking scenic views of the mountains surrounding Whistler Village.
Extraordinary service - friendly, warm and thoroughly 'West Coast'. Relax and let us take care of your every need.
Group blocks are easily arranged through us. On your request we will send you a complete proposal. Contact us by e-mail!
If you need accommodation in Vancouver on your way in or out - we will certainly help you with your accommodation needs in this wonderful city as well.

FULL SERVICE HOTELS
If you want to pamper yourself while visiting, book into one of the many full service hotels. Offering amenities from room service to spa facilities, there is a selection of luxury hotels to serve you. Just steps away from shops and restaurants, the hotels provide concierge and daily housekeeping services, and many have on-site restaurants and swimming pools.

CONDOMINIUMS
If you are planning to spend some time in Whistler or are bringing the family, you may want to settle into a condominium with the comforts and conveniences of home. Whistler offers a wide selection of condominiums, from townhouses to hotel-style properties, with fully-equipped kitchens and living and dining areas. Many condominiums have laundry facilities and some of our hotel-style condominiums have outdoor pools and hot tubs.

PENSIONS
Indulge in the warm and comfortable family-owned pensions. Meet new people and make new friends over breakfast. These accommodations provide the ultimate in personal service.

CHALETS & VILLAS
Stay in one of Whistler's unique private homes - the perfect retreat for groups or families.

ACCOMMODATION IN VANCOUVER
Will you be arriving too late for an additional 2 hour drive to Whistler? Is your flight from Vancouver so early in the morning, that you would rather stay in Vancouver instead of getting up in the middle of the night for the transfer? We now have the perfect hotel for you!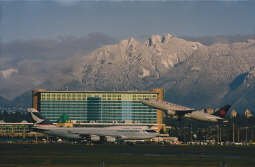 Amid spectacular mountain and ocean scenery, the Fairmont Vancouver Airport leads the way to a new level of luxurious and sophisticated accommodation and a luxuriously appointed health Club and Spa for relaxation and breathtaking floor-to-ceiling views. Located right in the Vancouver International Airport, no shuttle transfer is required. Simply take the elevator up from the International Departures terminal to the Hotel!
Opened on October 7th, 1999 the Fairmont Vanvouer Airport is a distinctive state-of-the-art hotel, combining first class luxury, exceptional personalized service and a sophisticated approach to modern travel.
As the gateway to Whistler, the Fairmont Vancouver is a great choice.
Should you want to stay in downtown Vancouver instead, we will find the right hotel for you to enjoy this beautiful city.